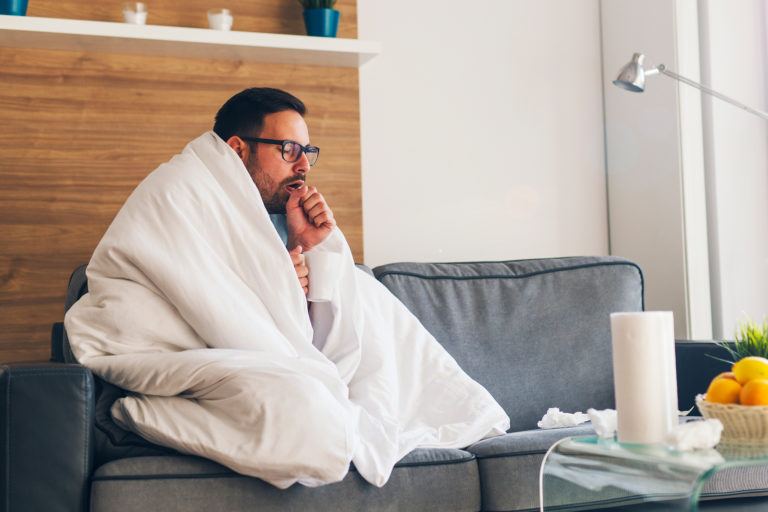 *coughs, clears throat* I swear I'm not trying to get your attention. It's just that time of year, you know. I start to cough because my throat is easily irritated by the extremely dry air we get up north during the winter. I hate having to cough all the time because the people in line at the grocery store give me disgusted looks, but I can't help it! Whether it's dry, rasping cough or a mucus laden wet cough, we cover how to get rid of a cough below.
No one likes a persistent cough, or the itchiness and pain that often come with a cough. So what causes a cough? It can be any number of things, really. Colds, the flu, bronchitis, smoking, allergies, dry air, acid reflux, emphysema, asthma: these are all possible causes of a cough or chronic coughs, and that's just a short list. In some cases, it might be something more serious — think a lung disease or something like COVID-19, but the odds are it is less serious than that.
The treatment of a cough really does depend on why you're coughing. So, in the hopes of helping your cure a cough, I've narrowed down the cough treatment suggestions to five possible avenues of action. Behold the five most common causes of coughing and the treatment required…
Types of Coughs and Best Cough Treatments
Cough Suppressants and Medication
There are a whole ton of cough medicines on the market today. We all know this from passing the drug sections of our local department stores. But the question is, which cough medicine should you choose? I don't usually use normal cough suppressants like Dayquil or Halls because I'm coughing for a reason; my lungs are trying to get something out. So, if I take a cough syrup, I usually try to find one that has an expectorant in it.
As I mentioned above, an expectorant will help you cough up whatever it is your lungs are trying to expel. If you've simply got a scratchy, sore throat because of the lack of humidity in the air, (a common occurrence during the winter months) then sometimes a cough suppressant or cough drops are perfectly good forms of treatment.
Best Natural Cough Remedies
Eucalyptus Oil
Eucalyptus oil and a pot of boiling water is a natural expectorant and cough remedy. What you'll want to do is get a pot of water to boil, take it off the burner (some people don't) and put it on your coffee table (on a pad of course) and put a few drops of pure eucalyptus oil in the water. Then, lean over the water, draping a towel over your head to help keep the steam in, and breath deeply for several minutes. Perform this silly ceremony a few times a day and your lungs should start clear up.
Slippery Elm Lozenges
Slippery elm lozenges are a really good alternative cough remedy to commercial cough drops. Slippery elm soothes your mucous membranes and reduces swelling of the mouth and throat, which make it a perfect cough treatment. It's also good for your digestive system and is used to stop diarrhea and treat intestinal infections.
Slippery elm seems to work by reducing inflammation (the cause behind so many ailments) as well as acting as a mild antacid, which further aides in the reduction of acid reflux.  We talk about that further above.  You can find it here on Amazon.
Zinc Lozenges
Zinc lozenges are a good idea if your cough is caused by a cold, bronchitis, or laryngitis because Zinc is a natural antibiotic agent. This type of lozenge should be dissolved under the tongue in order to ensure that it is absorbed into the capillaries of your mouth and throat, where its benefits become most evident. You can find zinc lozenges at Amazon.
Humidifiers = Less Coughing
I tend to cough a lot in the winter because the air is so dry in our apartments. If you have climate controlled home or a particularly arid apartment, it might be wise to pick up a steam humidifier. The extra humidity soothes your mucous membranes during the night, getting rid of a cough without medication.
It might be bronchitis.
Coughs that produce both phlegm and no phlegm may be signs of a bronchial infection. Wheezing, whistling noises and difficulty breathing are also symptoms of bronchitis. Usually, bronchitis and the cough it produces will go away on its own or with common cold treatments, but if it persists for more than 2 weeks you should see a doctor.